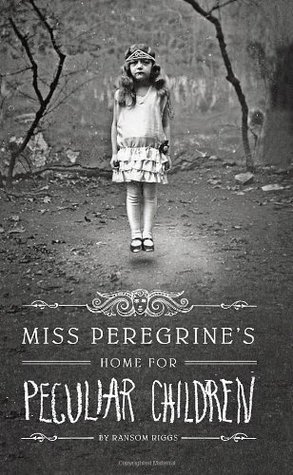 Book: Miss Peregrine's Home for Peculiar Children
Series: Miss Peregrine's Peculiar Children (#1)
Author: Ransom Riggs
Genre: Supernatural
Pages: 352
Published: June 7th, 2011
Summary: A mysterious island. An abandoned orphanage. A strange collection of very curious photographs.
It all waits to be discovered in Miss Peregrine's Home for Peculiar Children, an unforgettable novel that mixes fiction and photography in a thrilling reading experience. As our story opens, a horrific family tragedy sets sixteen-year-old Jacob journeying to a remote island off the coast of Wales, where he discovers the crumbling ruins of Miss Peregrine's Home for Peculiar Children. As Jacob explores its abandoned bedrooms and hallways, it becomes clear that the children were more than just peculiar. They may have been dangerous. They may have been quarantined on a deserted island for good reason. And somehow—impossible though it seems—they may still be alive.
A spine-tingling fantasy illustrated with haunting vintage photography, Miss Peregrine's Home for Peculiar Children will delight adults, teens, and anyone who relishes an adventure in the shadows.
★ ★
☆
☆ ☆
"I had just come to accept that my life would be ordinary when extraordinary things began to happen."
I feel like this book wasted a lot of potential. Now, a reminder, 2 stars means the book was okay, but just not for me. "Miss Peregrine's Home for Peculiar Children" was set up to possibly be a great paranormal horror or thriller for teens (creepy mystical children, and old mansion no one will go near, the tragic death of introverts from the past, doesn't this sound like the start to an awesome horror movie?), but Riggs decided to go more Narnia or Harry Potter instead. And I'm just disappointed. I heard a lot of hype for this book, and was honestly expecting to be knocked off my feet, and it fell a bit flat. It wasn't a terrible book, it just wasn't that great.
Some things I loved. . .
This book was filled with creepy pictures which at the end of the book Riggs said were found mainly in yard sales or trash bins. Most of the pictures were really cool photos of the past, and it was said that none of them were edited by Riggs or anyone he worked with, but all were found that way (obviously some were edited by the people who originally took them, but still!). The one below is my favorite.
The pictures were really the reason I picked up the book in the first place.
Some things I disliked. . .
Like I mentioned before, this book could of been a great horror or thriller, or even mystery now that I think of it, but it went more for fantasy instead. I honestly must say I never felt that scared, although I felt the sense I should of. The story gave more of a Neverland vibe than a paranormal one.
The pictures (I know I said I loved them, but they did hold some flaws) did not always hold up. Not all of the pictures shown were ever given explanation (like that dog boy, what was that?), and not all of them matched well. One of the main characters was a girl named Emma who shows up in multiple pictures, but here's the thing: first of all, Emma should be the same age in all the pictures, which she wasn't, and second, just because all the pictures feature a girl has short blond hair does not mean they are the same girl. I'm willing to let the second one slide, since it'd be hard to find the exact same girl for all the pictures, but it was a bit annoying when I sat down after the book to really think of it.
To wrap it up, the book was okay, but had wasted potential. All-in-all, a good way to spend a lazy summer afternoon, but nothing to write home about. Whether or not I'll read the sequel "Hollow City" is still up in the air.
Do you disagree with my views? I know some people love this book to pieces, and I'd like to hear your arguments in the comments.
-Claire
Some Other Reviews for "Miss Peregrine's Home for Peculiar Children" (may contain spoilers):