Inspired by the blog The Daily Prophecy, That's All Folks is a new series of posts where I'll give short reviews on books I want to review but don't have enough content to write a full review for.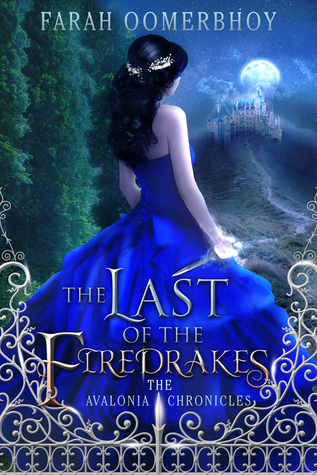 The Last of the Firedrakes by Farah Oomerbhoy (Avalonia Chronicles #1, Young Adult Fantasy published on August 15th, 2015)
This ebook was given to me by the publisher via NetGalley in exchange for a fair and honest review.
Synopsis: 16-year-old Aurora Darlington is an orphan. Mistreated by her adopted family and bullied at school, she dreams of running away and being free. But when she is kidnapped and dragged through a portal into a magical world, suddenly her old life doesn't seem so bad.
Avalonia is a dangerous land ruled by powerful mages and a cruel, selfish queen who will do anything to control all seven kingdoms—including killing anyone who stands in her way. Thrust headlong into this new, magical world, Aurora's arrival sets plans in motion that threaten to destroy all she holds dear.
With the help of a young fae, a magical pegasus, and a handsome mage, Aurora journeys across Avalonia to learn the truth about her past and unleash the power within herself. Kingdoms collide as a complicated web of political intrigue and ancient magic lead Aurora to unravel a shocking secret that will change her life forever.
☆ ☆ ☆ ☆ ☆
"I had to stop running. I had to turn and face my life head on."
I really wanted to like this book. I really tried. But I only got up to the 50% mark. It was just so cliche. An orphan who finds out they're the chosen one with magic powers and then goes to a magic school where they face bullies and a villain who wants them dead. . . I've read it a hundred times before, and I'll read it a hundred times again. And the entire first half of the book I read, and I mean literally the whole thing, was solid exposition with the occasional changing of locations. The exposition dump was killing me.
This book put me into a massive reading slump for both October and November. I didn't want to read another book with this one just sitting open, but I couldn't make myself read it. All I could think about was how the editor explicitly gave me this book for review, so I couldn't just not try to finish it. All of this guilt just killed my reading vibe for TWO MONTHS, so I'll say 0 stars (this blog's equation to a horrible DNF) is justified.
Still, you guys might want to give it a try. Every single other review I've seen of it was a rave, giving it either 4 or 5 stars, but I can't honestly recommend it. I'm thankful to write this short review and put this novel in the past.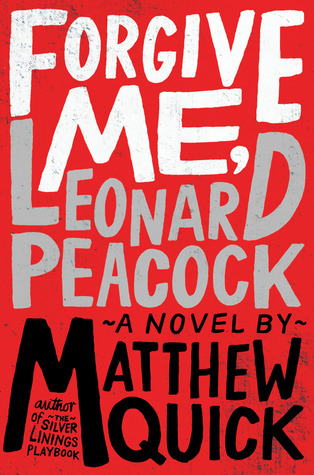 Forgive Me, Leonard Peacock by Matthew Quick (Young Adult Contemporary published on August 13th, 2013)
Synopsis: Today is Leonard Peacock's birthday. It is also the day he hides a gun in his backpack. Because today is the day he will kill his former best friend, and then himself, with his grandfather's P-38 pistol.
But first he must say good-bye to the four people who matter most to him: his Humphrey Bogart-obsessed next-door neighbor, Walt; his classmate, Baback, a violin virtuoso; Lauren, the Christian homeschooler he has a crush on; and Herr Silverman, who teaches the high school's class on the Holocaust. Speaking to each in turn, Leonard slowly reveals his secrets as the hours tick by and the moment of truth approaches.
In this riveting look at a day in the life of a disturbed teenage boy, acclaimed author Matthew Quick unflinchingly examines the impossible choices that must be made—and the light in us all that never goes out.
★ ★ ★ ☆ ☆
"You can't expect kids to save themselves, can you?"
I've heard such grand reviews on this book, praising it for being funny and tragic. Condensed, it's a book about a boy who's planning to shoot his ex-best friend and then himself later that day, but first wants to give gifts to the four people in his life who really mattered to him. The book was really wonderfully written, and I'll totally read more by Matthew Quick later on, but I really didn't like the main character, Leonard. I disagreed with almost all of his ideology. The main reason why was because a very large part of the book and his humor was him having a crush on a Christian girl, and him thinking the best way to pursue her is to mock her religion. He says at one point in the book that he agrees people should "think for yourself and do what's right for you, but let others do the same," but he does the exact opposite. As a Catholic, it just kind of pissed me off how he thought she would appreciate him for him actively trying to tear apart her faith. It's kind of a soft spot for me, and I'm a really strong member of the "just let people chose their religion in peace" club. Since this was such a major part of the book, I couldn't love it. The writing and the really heartfelt ending did make me push the rating up to three stars however, and it was probably a case of "it's not you it's me." Matthew Quick is a great writer, and with all the good reviews floating around you should still consider picking this one up.
- Claire