Inspired by the blog The Daily Prophecy, That's All Folks is a new series of posts where I'll give short reviews on books I want to review but don't have enough content to write a full review for.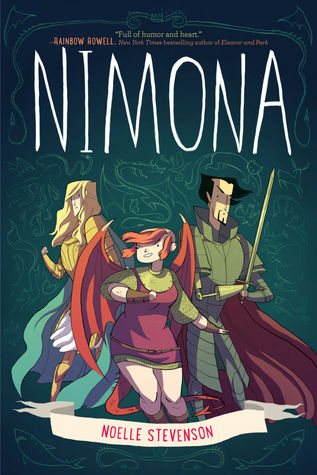 Nimona by Noelle Stevenson (Young Adult Fantasy Graphic Novel published on May 12th, 2015)
Synopsis: Nemeses! Dragons! Science! Symbolism! All these and more await in this brilliantly subversive, sharply irreverent epic from Noelle Stevenson.
Nimona is an impulsive young shapeshifter with a knack for villainy. Lord Ballister Blackheart is a villain with a vendetta. As sidekick and supervillain, Nimona and Lord Blackheart are about to wreak some serious havoc. Their mission: prove to the kingdom that Sir Ambrosius Goldenloin and his buddies at the Institution of Law Enforcement and Heroics aren't the heroes everyone thinks they are.
But as small acts of mischief escalate into a vicious battle, Lord Blackheart realizes that Nimona's powers are as murky and mysterious as her past. And her unpredictable wild side might be more dangerous than he is willing to admit.
★ ★ ★ ★ ☆
''I can't have a kid following me around all day.''
''I'm not a kid. I'M A SHARK.''
I was surprised how cute and thoroughly enjoyable this book was. I've been in a bit of a reading slump recently, and this adorable, heartfelt, and quick story was exactly what I needed. It flips traditional narratives on their heads, and has a rad art style!
The story did a really good job of making me care about all the characters in a very minimal amount of time. All of them were so interesting with such tragic backstories, and it just left me wanting more! I would read a prequel about literally any character in the whole book. Graphic novels, especially stand-alones, often don't have as much time or space to go into details, but I wish this book had! Don't get me wrong, this book would lose so much in novel form, but in a way I wish it was so I could learn more about the world it's set in. What's up with the king? Tell me more about Nimona's backstory! What about Meredith's backstory? I just have so many questions (which is probably something I should praise the book for. It's good to want more)!
I was also quite a fan of the art and the color schemes used. It is a very stylized look that was pleasing to the eyes, which played a big part in my enjoyment. It's hard to like a graphic novel if you don't like the art style, obviously. My one complaint was that it was hard to tell the genders of a few of the characters just from their appearance, which is something I like to be able to do when reading a graphic novel.
Overall, thumbs up if you want something very cute and a little bit sad! Also, is it bad for me to ship the hero and his arch-nemesis?

Think Like a Freak by Steven D. Levitt and Stephen J. Dubner (Nonfiction Economics published on May 12th, 2014)
Synopsis: The Freakonomics books have come to stand for something: challenging conventional wisdom; using data rather than emotion to answer questions; and learning to unravel the world's secret codes. Now Levitt and Dubner have gathered up what they have learned and turned it into a readable and practical toolkit for thinking differently - thinking, that is, like a Freak. Whether you are interested in the best way to improve your odds in penalty kicks, or in major global reforms, here is a blueprint for an entirely new way to solve problems.
Along the way, you'll learn how the techniques of a Japanese hot-dog-eating champion can help you, the reason an Australian doctor swallowed a batch of dangerous bacteria, why Nigerian email scammers make a point of saying they're from Nigeria, and why Van Halen's demanding tour contract banning brown M&Ms was really a safety measure. And you will learn to quit before you fail, because you can't solve tomorrow's problem if you aren't willing to abandon today's dud.
★ ★ ★ ☆ ☆
"Solving a problem is hard enough; it gets that much harder if you've decided beforehand it can't be done."
It's only fair to state right here at the beginning that the only reason I read this book was for school. As far as that goes, it's not the worst book I've read for school, nor was it the best. This book, to sum it up in one word, was fine.
This book's strength was definitely the fun and varied stories and anecdotes. My favorites were probably the sections on competitive hot dog eating and Van Halen (two completely different sections, just to clarify). The perk of all of these sections being so short was that if you didn't like a section, a few pages later we'd be onto something new. In this way it's a very interesting, light, and quick read.
The reason, however, I only gave it three stars was that nothing was really compelling to me. It was kind of fun, sure, but none of the ideas struck me There are a lot of lessons and morals tied up in the book, but none of them really made me think. Every time they told me an idea that was clearly supposed to be some important lesson, I would just think, "Huh. Cool I guess." And then I was done.
Main idea of the book? To be successful, you need to think creatively, but also know when to quit. Main idea of this review? The book has fun stories, but was really nothing special for me.
-Claire