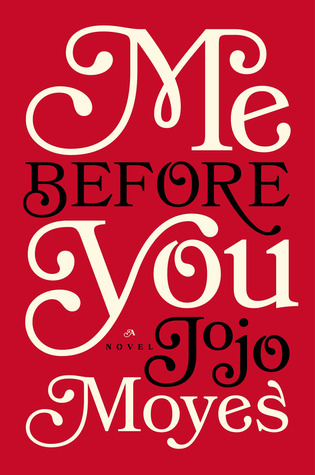 Book: Me Before You
Author: Jojo Moyes
Genre: Adult Romance
Pages: 369
Published: December 31st, 2012
Synopsis: Lou Clark knows lots of things. She knows how many footsteps there are between the bus stop and home. She knows she likes working in The Buttered Bun tea shop and she knows she might not love her boyfriend Patrick.
What Lou doesn't know is she's about to lose her job or that knowing what's coming is what keeps her sane.
Will Traynor knows his motorcycle accident took away his desire to live. He knows everything feels very small and rather joyless now and he knows exactly how he's going to put a stop to that.
What Will doesn't know is that Lou is about to burst into his world in a riot of colour. And neither of them knows they're going to change the other for all time.
I 100% only want to read this book because the trailer to the movie was so cute and lovely and potentially heartbreaking. I need to read this books ASAP, then watch the movie, then cry or laugh or do whatever this book and its adaptation will make me do.
Besides, I've heard such great things in passing about this book, and I want to start reading a little more adult fiction.
Here, for your enjoyment, is said trailer:
-Claire