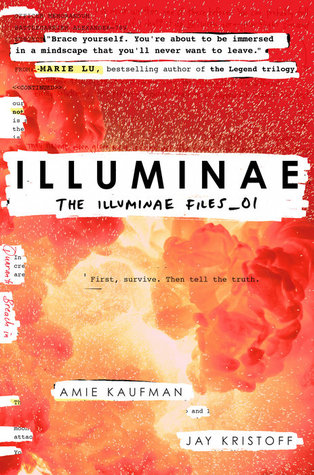 Book: Illuminae
Series: The Illuminae Files (#1)
Author: Amie Kaufman and Jay Kristoff
Genre: Young Adult Science Fiction
Pages: 599
Published: October 20th, 2015
This ebook was given to me by the publisher via NetGalley in exchange for a fair and honest review.
Synopsis: This morning, Kady thought breaking up with Ezra was the hardest thing she'd have to do.
This afternoon, her planet was invaded.
The year is 2575, and two rival megacorporations are at war over a planet that's little more than an ice-covered speck at the edge of the universe. Too bad nobody thought to warn the people living on it. With enemy fire raining down on them, Kady and Ezra—who are barely even talking to each other—are forced to fight their way onto an evacuating fleet, with an enemy warship in hot pursuit.
But their problems are just getting started. A deadly plague has broken out and is mutating, with terrifying results; the fleet's AI, which should be protecting them, may actually be their enemy; and nobody in charge will say what's really going on. As Kady hacks into a tangled web of data to find the truth, it's clear only one person can help her bring it all to light: the ex-boyfriend she swore she'd never speak to again.
Told through a fascinating dossier of hacked documents—including emails, schematics, military files, IMs, medical reports, interviews, and more—Illuminae is the first book in a heart-stopping, high-octane trilogy about lives interrupted, the price of truth, and the courage of everyday heroes.
★ ★ ★ ★ ☆
"Miracles are statistical improbabilities. And fate is an illusion humanity uses to comfort itself in the dark. There are no absolutes in life, save death."
What set this book apart was its storytelling technique. All the raves you hear, it's the reviewer gasping over how different the book felt.
Illuminae is an interesting book chronicling the the story of two teenage refugees named Ezra and Kady, who live in the far future. Shortly after they break up, their settlement in some far-off corner of the universe is blown to bits by a rival corporation. They, along with a few thousand of their surviving neighbors, are forced to flee on three small spaceships. Kady and Ezra are put on different spaceships, and while Kady uses her hacking skills to try and find out what the heads aren't telling them, Ezra gets drafted as a pilot. However, they're months away from safety and are still pursued by one of the ships that tried to destroy them. This novel isn't just Kady and Ezra's love story, but their fight for survival, both against the ship that wants them dead and secrets their own people are keeping.
Was that a good synopsis? I think I did a good job.
The entire book was written not in traditional story format, but as a collection of files. Instead of getting descriptions of glances and internal thoughts, you get IMs, interviews, official documents, wikipedia-esque pages, diary entries, maps, and more! It really helped to immerse the reader into the world since it felt like you were at some desk somewhere, reading in horror of the accounts that had happened just a few light years away. And it just felt fresh!
Just so you know, this is totally a book that you need to read in book format. Maybe audiobook format (I heard they have like 20 voice actors on that thing), but for the love of all things holy, do not read this thing on any form of ereader. Some pages were formatted with the words curling and making up pictures, on placed on a detailed page that made it look like a webpage, email, etc. Reading it on your phone would take that cool layout away.
It does take a while for the story to pick up. Around the halfway point (which is 300 pages and nothing to sneeze at) I was wondering if the book was even worth finishing, or if it was just going to be more emails and people be suspicious. Then the big events started hitting. There was action, sacrifice, loss, unlikely friendships, and it all appeared so fast that I read the final 300 pages in less than a day. (It probably helped that a bunch of pages in the second half only had a few words on them.)
The book borrows heavily from "2001: A Space Odyssey" (or at least the film, I haven't read the book) by basing the AIDAN, the A.I., off the HAL 9000. Both are A.I.s who are programed to do whatever necessary to complete their tasks, any by that I mean WHATEVER NECESSARY. I actually ended up really liking AIDAN, who may have been my favorite character. Towards the end, he starts feeling really human and a large part of the second half of the book is just records of his thought processes. It was really the only raw emotion you get in the book, which is strange since it comes from a system on a computer.
My one real complaint with the book is that I had a bit of a problem remember who all the minor characters were. Since character development came through screen names and IMs and only a handful of characters have any physical traits described, it can be a bit hard to separate all the soldier buddies or untrustworthy officials from each other. (Oh no, soldier bubby number 3 died? Really hits home.)
Still, if you like Sci-fi and A.I.s, and want to try reading something in a format that's a little different, pick this big baby up. It may take a little time, but it just might be worth it.
-Claire
Some other reviews for "Illuminae" (may contain spoilers):
Dear Author
Kirkus
The Book Smugglers