Inspired by the blog The Daily Prophecy, That's All Folks is a new series of posts where I'll give short reviews on books I want to review but don't have enough content to write a full review for.
Disappear Home by Laura Hurwitz (Young Adult Historical Fiction published on March 1st, 2015)
This ebook was given to me by the publisher via NetGalley in exchange for a fair and honest review.
Synopsis: In 1970, as the hippie movement is losing its innocence, Shoshanna and her six-year-old sister, Mara, escape from Sweet Earth Farm, a declining commune, run by their tyrannical and abusive father, Adam. Their mother, Ella, takes them to San Francisco, where they meet one of her old friends, Judy, and the four of them decide to head off and try to make a life together. Then their mother's crippling depression returns. Confused and paranoid, Ella is convinced that she and the girls must leave before Adam finds them and extracts revenge. Shoshanna has always watched over her sister and once again she has to watch over her ailing mother. Will she ever live a "normal" life?
★ ★ ★ ☆ ☆
"We are family, and families get through the tough times together. It doesn't break them; it makes them stronger."
This was a pretty slow book, but I ended up really liking it. As a reader, you follow Shoshanna's journey as she runs away with with her mother and sister from a commune. I liked the characters, and the fear that was felt throughout the book that someday the people from the commune would catch up with them, but my main complaint was that it was just pretty dull. But like I said, this book was slow and very little happened. I would of loved for their to be more conflict. It's mostly the characters trying to restart their lives, but everything kind of falls into place for them. I'd of loved to see more about their life at the commune. Overall, this novel is well-written but at times dull, and I'd only recommend it if you're into more character-driven stories than plot-driven one.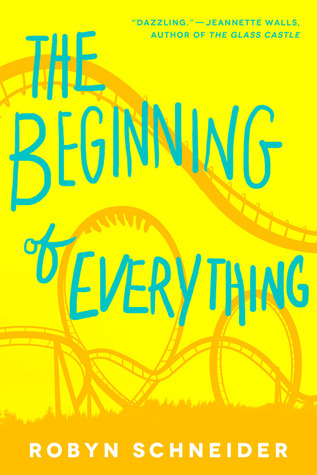 The Beginning of Everything by Robyn Schneider (Young Adult Contemporary published on August 27th, 2013)
Synopsis: Golden boy Ezra Faulkner believes everyone has a tragedy waiting for them. His particular tragedy waited until he was primed to lose it all: in one spectacular night, a reckless driver shatters Ezra's knee, his athletic career, and his social life. No longer a front-runner for Homecoming King, Ezra finds himself at the table of misfits, where he encounters new girl Cassidy Thorpe. Cassidy is unlike anyone Ezra's ever met, achingly effortless, fiercely intelligent, and determined to bring Ezra along on her endless adventures. But as Ezra dives into his new studies, new friendships, and new love, he learns that some people, like books, are easy to misread. And now he must consider: if one's singular tragedy has already hit and everything after it has mattered quite a bit, what happens when more misfortune strikes?
★ ★ ★ ☆ ☆
"Oscar Wilde once said that to live is the rarest thing in the world, because most people just exist, and that's all. I don't know if he's right, but I do know that I spend a long time existing, and now, I intend to live."
This book to me seemed like the completely run-of-the-mill, dime-a-dozen, cutesy contemporary YA romance novel. We have our protagonist, a handsome guy in high school who's down-on-their luck in some way, and their lovely partner, who takes manic-pixie-dreamgirl-ness to the next level. They quote philosophers, have weird first names to show how different they are, and share some weird nerd thing with each other. By the end of the novel fate tears them apart. Let's just say we've seen this plot before. I was super interested in this book because the two main characters are in debate club and go to debate tournaments, and I'm on my high school debate team. The book was overall fine, but there were some moments where I just was taken aback for a second from mild confusion. Examples can be found when the coyote subplot is solved or the decapitation story is told. Also, toward the end of the book Cassidy stirs up all this unnecessary tension and hurts Ezra when she really just should of been up-front with him. She tried to pass off her being a bitch as "I didn't want to hurt your feelings," but she made everyone miserable for no real reason! Cassidy just annoyed me at times. The book had it's highs and lows for me, but I did still enjoy it and gave it 3 stars. I recommend it to those who are in need of a YA contemporary fix.
-Claire