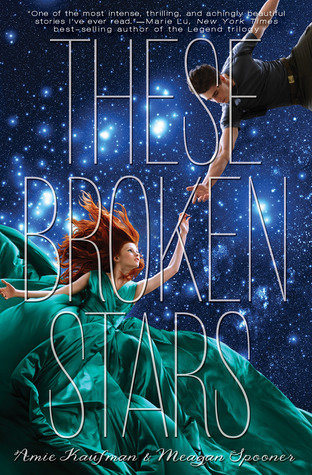 Book: These Broken Stars
Series: Starbound (#1)
Author: Amie Kaufman and Meagan Spooner
Genre: Young Adult Science Fiction
Pages: 374
Published: December 10th, 2013
Synopsis: Luxury spaceliner Icarus suddenly plummets from hyperspace into the nearest planet. Lilac LaRoux and Tarver Merendsen survive -- alone. Lilac is the daughter of the richest man in the universe. Tarver comes from nothing, a cynical war hero. Both journey across the eerie deserted terrain for help. Everything changes when they uncover the truth.
The Starbound Trilogy: Three worlds. Three love stories. One enemy.
★ ★ ★ ★ ★
"But who names a starship the Icarus? What kind of man possess that much hubris, that he dares it to fall?"
I rated this book 4.5 stars (rounded up to 5 stars). I didn't expect the romantic aspects of this book to tug at my heart strings so much. It was a emotional roller coaster!
When rich little daddy's girl Lilac LaRoux and low-class soldier Tarver Merendsen find themselves the sole survivors of the crash of the spaceliner Icarus, they realize that the only way for both of them to survive is to work as a team. Between their fights and insults, they begin to get protective of each other, and soon they realize that the planet they're trying to escape might have more secrets then they thought.
I actually read this book a few weeks before I wrote this review, so sorry if its a tad vague. I don't fully remember all the little details.
Like I said before, I loved the relationship that formed between Lilac and Tarver. I ship them SO HARD. I really didn't expect to care about them so much, even though I'm really glad I did. Every time one of them got hurt or scared or lost, I just died.
There was great character development, and the back stories felt unique and interesting, but never too weird for the world of the future this story's set in. Lilac and Tarver felt like real people, and I could totally understand their motives. Both of them have hidden sides that they're unwilling to admit.
Chapters also always switch points of view, and there was never an issue in seeing who was talking in which chapter.
Between the beginning and end of every chapter in this book their's some text that's obviously a recording of an interview that Tarver is in. Whoever is asking him these questions wants to know what happened on the planet, and Tarver tells little lies to tone down the events. It keeps readers asking questions. How did Tarver get off the planet? Why is he lying? Whose's asking these questions? Did Lilac survive? (Don't worry, they'll all be answered in time)
The one critique I have is that the end seemed a bit rushed. I'd like the big twist to of had come a bit more slowly. Maybe we could have cut out one of the scenes of them walking and replaced it with a bit more build-up right before the big conclusion. Not that there were no clues. Just that I felt like some things were sort of never explained.
. . . And quick review on the cover: gorgeous. I love Lilac's pretty dress just billowing as they fall, although this scene never happened in the book. Still, an A on cover design.
There's a second book in this series that came out, and even though it doesn't follow the same characters you can bet I'll be reading it soon! Maybe Tarver and Lilac will make a small appearance (wishful thinking, but you never know!). I really want to know more about the world, since the characters got disconnected from it so early on.
I recommend this book to YA readers who like a bit of romance.
-Claire
Some other reviews of "These Broken Stars" (may contain spoilers):
Little Book Owl
The Book Smugglers
Reading After Midnight