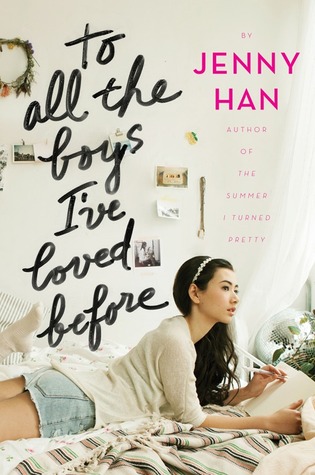 Book: To All the Boys I've Loved Before
Series: To All the Boys I've Loved Before (#1)
Author: Jenny Han
Genre: Contemporary Young-Adult Romance
Pages: 355
Published: April 15th, 2014
Summary: Lara Jean keeps her love letters in a hatbox her mother gave her.
They aren't love letters that anyone else wrote for her, these are ones she's written. One for every boy she's ever loved—five in all. When she writes, she can pour out her heart and soul and say all the things she would never say in real life, because her letters are for her eyes only. Until the day her secret letters are mailed, and suddenly Lara Jean's love life goes from imaginary to out of control.
★ ★ ★ ☆ ☆
"I don't have to be so afraid of good-bye, because good-bye doesn't have to be forever."
What a cutesy little story about a girl named Lara Jean. She keeps love letters she wrote, but never delivered, to boys she used to like in a hatbox. It's all just nice and dandy, a way of venting out her past crushes and letting go of them forever, until one day those letters accidentally get mailed. For most of the letters it's okay and can be shrugged off, but one was written to her sister's recent ex boyfriend who she still loves. In order to save face, she makes an agreement with one of the other boys she used to love to pretend to date, but she realizes that she can't keep lying and expect everything to work out.
There were some parts I liked. I ship Peter and Lara Jean so hard. They try to convince themselves that they're so different and that their relationship is a scam, and although it may of started that way you can tell as they story goes on they use it as an excuse. They really like each other. Not love, per say, since they're only teenagers, but both of them develop sincere feelings. They were just so adorable, and I really really really wanted them to end up together more and more as the book progressed. They're relationship was a high point in the novel.
It was also one of those stories where the characters decide to make an overly elaborate scheme of lies which slowly grows out of control instead of just telling everyone the truth, facing a few minutes of embarrassment, then moving on forever. A few of these characters deserve a slap upside the head.
I didn't like the ending. Too many loose ends. And I also don't like the fact that there's going to be a sequel even more. This book would be a much better standalone than a series, because even with a dozen loose ends there really isn't enough story left for a sequel. A novella maybe, or a few extra chapters, but not another novel. It just pisses me off.
Overall, cute story, not spectacular, but a fun little read. Recommended for people who like love stories.
-Claire
Some Other Reviews for "To All the Boys I've Loved Before" (May Contain Spoilers):