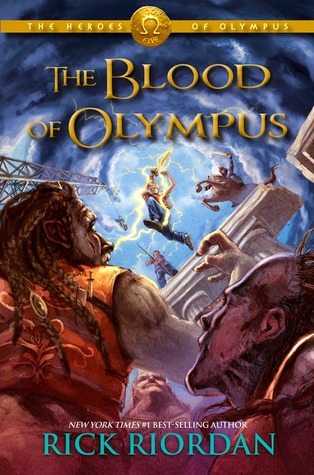 Book: The Blood of Olympus
Series: The Heroes of Olympus (#5)
Author: Rick Riordan
Genre: Middle-grade Fantasy
Pages: 502
Published: October 7th, 2014
Summary: Though the Greek and Roman crewmembers of the Argo II have made progress in their many quests, they still seem no closer to defeating the earth mother, Gaea. Her giants have risen—all of them—and they're stronger than ever. They must be stopped before the Feast of Spes, when Gaea plans to have two demigods sacrificed in Athens. She needs their blood—the blood of Olympus—in order to wake.
The demigods are having more frequent visions of a terrible battle at Camp Half-Blood. The Roman legion from Camp Jupiter, led by Octavian, is almost within striking distance. Though it is tempting to take the Athena Parthenos to Athens to use as a secret weapon, the friends know that the huge statue belongs back on Long Island, where it "might" be able to stop a war between the two camps.
The Athena Parthenos will go west; the Argo II will go east. The gods, still suffering from multiple personality disorder, are useless. How can a handful of young demigods hope to persevere against Gaea's army of powerful giants? As dangerous as it is to head to Athens, they have no other option. They have sacrificed too much already. And if Gaea wakes, it is game over.
★ ★ ★ ★ ☆
"You can't choose your parentage. But you can choose your legacy."
This is the end, my friends. I remember back to elementary school when all of my friends read these books, and we spent recess debating our godly parents and showing off our powers. It was a simpler time, when fantasy was always the preferred genre and a good book about heroes never failed to make you giddy inside. When knowledge on a book let you in to hours of conversation, and the death of any character made you cry. This is the final hurrah.
Alright, that's a bit much I suppose. It's true that the Percy Jackson series was a favorite among my elementary school due to it's dutiful middle-grade theory that, even if you were a kid, you could be a hero. It had the same effect on some of the kids on my grade that Harry Potter gave me, but I was never quite free of it. I held off until everyone had made it too the final books, not wanting to jump on the bandwagon mindlessly. Then the temptation was too much. I gave in and read.
I read a lot in elementary school. The Percy Jackson series was a personal pleasure. Although it never reached the level that Harry Potter remained at, I reread all of the Percy Jackson books numerous times, still happy every time I put it down. When I found out a spin-off series with Percy and some new characters was coming out (Heroes of Olympus), I wasn't sure whether to be nervous or excited. Should Riordan of quit while he was ahead?
This last book in the Percy Jackson saga was in no way my overall favorite (that probably going to the Last Olympian), but the Blood of Olympus was a nice end to a beloved series, for those who managed to not give up anywhere on the total 10 book journey. I'll get the issues out of the way first: There were no chapters from Percy and Annabeth's point of view. We started all the books off with them, and I want to finish with them!
(higlight for spoilers)
And Gaea being woken by Percy's nosebleed? That's cute, but I didn't want cute! I wanted sacrifice! And the whole "one of you will die" thing? Yeah. NO ONE DIES. One gets shipped off to a pocket universe thing so he can save the girl he love, leaving everyone to think he 's dead, but that's not dead! That's being alive somewhere else! I love all the characters, but I wanted one of them to die, no just because it was promised, but because I wanted to cry. More people died in the original Percy Jackson series! And I really wanted an epilogue, like in Harry Potter! I need to know what happens to all my characters? DO they just live happily ever after and never have troubles again? I want to know if they got married and had kids, and what the hell will happen when they all meet Calypso! And Nico and Will? Is Will gay too? Let's dive into that! There is very little closure! GAH! Oh my gosh, this is turning into angry typing.
And now the good parts.
The Nike scene was hilarious. All you kids who've read it know what I'm talking about. It was some nice comic relief without throwing the whole book off. I'm glad Reyna finally got some more character development. And I am so glad this series exists. I recommend this series to every single kid who loves fantasy!
-Claire
Some Other Reviews for "The Blood of Olympus" (May Contain Spoilers):
Ravings of A Maniac Reader
The Cheap Reader
polandbananaBOOKS