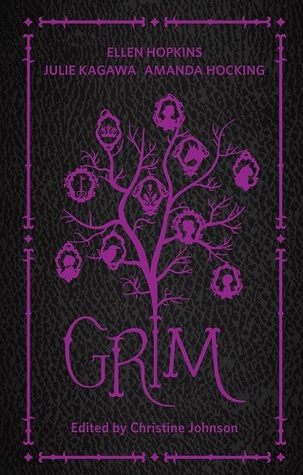 Book: Grim
Author: Various Authors
Genre: Fairy Tales
Pages: 480
Published: February 15th, 2014
Summary: Inspired by classic fairy tales, but with a dark and sinister twist, Grim contains short stories from some of the best voices in young adult literature today.
★
★
★
☆
☆
"Blessings. Curses. Who was to say which was which?"
Grim. A lovely collection of stories based n Grimm's fairy tales, and a great was to start my late entry into the
"Fairy Tales Retold Reading Challenge."
Unfortunately, it only got 3 stars because it was so inconsistent. Since every story was the work of a different author, not every story worked for me. While some were sweet, touching, and clever, others were just too creepy or strange. I'm going to briefly review a few that stuck out in my memory after finishing the collection.
"The Pink" by Amanda Hocking
This one was a personal favorite. It felt like an actual fairy tale with a bit more insight than usual, while the others took the route of odd spin-offs. It also didn't feel forced like some of the other stories, and told a charming tale of a prince that had all his wishes come true. I'm not sure if or what it was based off, but it was very great all the same.
"Skin Tale" by Myra McEntire
I didn't really understand this story, and it was too creepy as well. I think it was about people who sold human pelts, but I honestly can't be all sure. Regardless, it was terrifying and was too fast-paced to actually get a hold off. Not a favorite.
"Light it Up" by Kimberly Derting
This one didn't take long to recognize. It was a very clever twist on "Hansel and Gretel." The author was able to perfectly and elegantly switch out a witch's magic for a man's insanity. It was one of the best modern spin-offs of a story. Very good!
"Beauty and the Chad" by Sarah Ress Brennan
This one was just
so stupid.
It's a weird spin-off of Beauty and the Beast, but the Beast is a transformed frat boy named Chad. Maybe it'd be funny as a Saturday Night Live skit, but as a short story in this novel it was so pointless! I couldn't take it seriously. How could I take it seriously? It was painfully blunt and some of the running jokes that were funny at the beginning just got more and more boring as it went along.
"A Real Boy" by Claudia Gray
and
"Better" by Shaun David Hutchinson
I decided to do these two together. Both included a girl trying to save a boy she learned to love. The first is about a mechanic and a highly intelligent robot, and the second is about an experiment and a sick boy. They're both really sweet, although the ending to "Better" was very shocking.
"Thinner than Water" by Saundra Mitchell
This one just made me feel uncomfortable. The author focused too extremely on the first part of the story "Allerleirauh" (Google it if you must). It's very twisted and the topic is extremely delicate. Not one of the better stories.
"The Key" by Rachel Hawkins
Although it was short, this story was very interesting and compelling. It was a great way to start the book, since it was the first story in the whole thing.
And there's the review! In case you're wondering, on the review list I marked this book under Christine Johnson because she was the editor.
-Claire