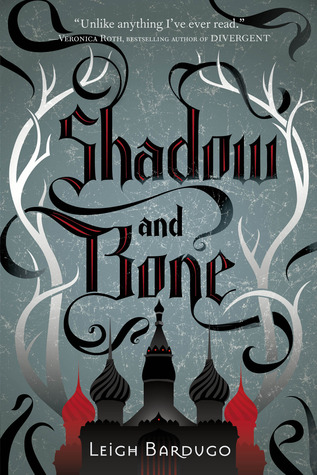 Book: Shadow and Bone
Series: The Grisha (#1)
Author: Leigh Bardugo
Genre: Fantasy- adventure
Pages: 356
Published: June 5, 2012
Summary:
The Shadow Fold, a swathe of impenetrable darkness, crawling with monsters that feast on human flesh, is slowly destroying the once-great nation of Ravka.
Alina, a pale, lonely orphan, discovers a unique power that thrusts her into the lavish world of the kingdom's magical elite—the Grisha. Could she be the key to unravelling the dark fabric of the Shadow Fold and setting Ravka free?
The Darkling, a creature of seductive charm and terrifying power, leader of the Grisha. If Alina is to fulfill her destiny, she must discover how to unlock her gift and face up to her dangerous attraction to him.
But what of Mal, Alina's childhood best friend? As Alina contemplates her dazzling new future, why can't she ever quite forget him?
Glorious. Epic. Irresistible. Romance.
So this book was lent to me by a friend, who I hope is reading this review! (Hi Kate!) Anyway, my expectations for this book were high and I can say with certainty that this book lived up to them. Shadow and Bone is a passionate, unpredictable piece of literature. Leigh Bardugo has a great vision and entertaining characters to go along with it. Every time I turned the page I was excited to see what would happen next.
One of my personal favorite things from this book was the language the author created. Her words for simple items, like a coat, can be turned into something much more regal and beautiful, like kefta. I also enjoy how Alina's kefta is an ever present reminder of her social standing at the Little Palace, making this book identify with the teens who are reading. Although Alina may be a member of the elite Grisha, she still has to deal with personal problems, including her very small (surprisingly) and strange confrontation with that bitch named Zoya (or something strange like that!).
Now working my way into the negatives of the book. Although I did fly through this book, the beginning was pretty slow. Since the narrator has such an intricate way of telling the story, with different languages and translations of words it can be confusing. On top of that, the different Grisha all have strange names (i.e. Corporalki, Etherealki, Materialki) and different jobs and outfits corresponding with their titles. At times it can be overwhelming.
Another thing I was disappointed was the lack of the male lead, Mal, who although was absent throughout the middle, you could always feel his presence. I loved the brother-sister dynamic between Mal and Alina, and how you could tell their relationship was strained at times. It seemed like a real relationship to me, rather than just fluff. But of course the darkest cloud they had to face was the "all- knowing" Darkling. He was a very intriguing character to me and I am certainly interested in seeing where his storyline goes. I think he is one of those characters who you don't know whether he is good or bad, or possibly a little bit of both, which is great when mixed with Alina's uncertainty.
Overall, I thoroughly enjoyed this book and I am looking forward to reading the sequel, Siege and Storm. I like how this book connected to every teenage girl from the standpoint of fitting in and dealing with the mean girl, but also how it showed some amazing and kick ass powers! Alina Starkov's incredible sun summoner power lit up the mythological world of Ravka (no pun intended!) and I had the pleasure of reading all about it!
Read it. Love it. Live it. (Cheesy, I know. But seriously, read the damn book. Better than the Hunger Games!)
- stELla