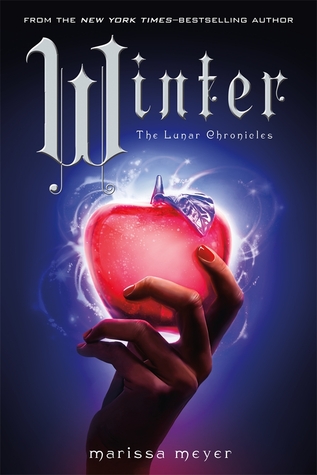 Book: Winter
Series: The Lunar Chronicles (#4)
Author: Marissa Meyer
Genre: Young Adult Science Fiction
Pages: 832
Published: November 10th, 2015
Synopsis: Princess Winter is admired by the Lunar people for her grace and kindness, and despite the scars that mar her face, her beauty is said to be even more breathtaking than that of her stepmother, Queen Levana.
Winter despises her stepmother, and knows Levana won't approve of her feelings for her childhood friend--the handsome palace guard, Jacin. But Winter is"n't as weak as Levana believes her to be and she's been undermining her stepmother's wishes for years. Together with the cyborg mechanic, Cinder, and her allies, Winter might even have the power to launch a revolution and win a war that's been raging for far too long.
Can Cinder, Scarlet, Cress, and Winter defeat Levana and find their happily ever afters?
★ ★ ★ ★
★
"Broken isn't the same as unfixable."
It was so easy to get back into. I read the third book a year and a half ago, but I had no trouble following the story and getting back into the flow of things. The characters are all so distinct, and they really stick in your memory even if you take a break from the series.
My main comment on the book, and I don't know if this is a critique or compliment, is that the entire book felt like the climax. All 800 pages. All the books in the series were leading up to this one, and each scene left me with the jittery feeling that the climax of a book gives you, like the payoff has finally arrived. Some scenes in the first half of the book felt more like climaxes than the actual climax! It was so intense, and frankly (and this is where the complaint comes in) made me a little worn out from all the pressure.
This series is supposed to be of sci-fi fairytale retellings, with this latest installment being for Snow White. To be honest though, at this point in the series the retelling aspect is so loose that I was surprised at plot twists that I knew were going to happen (huntsman trying to kill Snow White, for example). The characters feel so separate from their source material that, other than the most basic similarities, this book is entirely its own. It hits the three of four main plot points, but strays far off the path in between.
I'm not sure who the main characters of the book were, but two very minor characters in the past books took center stage in this one: Jacin and Winter. I have to say, Meyer does a great job getting me hooked onto new romances. I was in love with the idea of these two since page one of this book, and although they aren't as a good as some of the other couples in this series, their story felt new in the universe and kept me interested throughout.
One complaint I did have was that the romances that were front and center of the last few books were pushed aside for the revolution plot. I understand, I didn't pick up this book for people staring into each others' eyes, but I just wanted a little bit more (Mostly of Cress and Thorne, oh my God. They are so cute. I would read a hundred more books about them.).
An unexpected favorite in this book was Iko, the robot. Iko rocked in this. In the past few books she felt a bit annoying, but she felt very human and genuine in this. I also thought it was hilarious how people kept shooting her, and she just got very annoyed.
I'll miss you Lunar Chronicles. That is, until Meyer makes a spinoff series or some more companion novels (place your bets now).
But finally, a new ranking of the Lunar Chronicles ships.
1. Cress and Thorne
2. Winter and Jacin
3. Scarlet and Wolf
4. Cinder and Kai
-Claire